---
What do workstations for Video Editing and Design typically look like?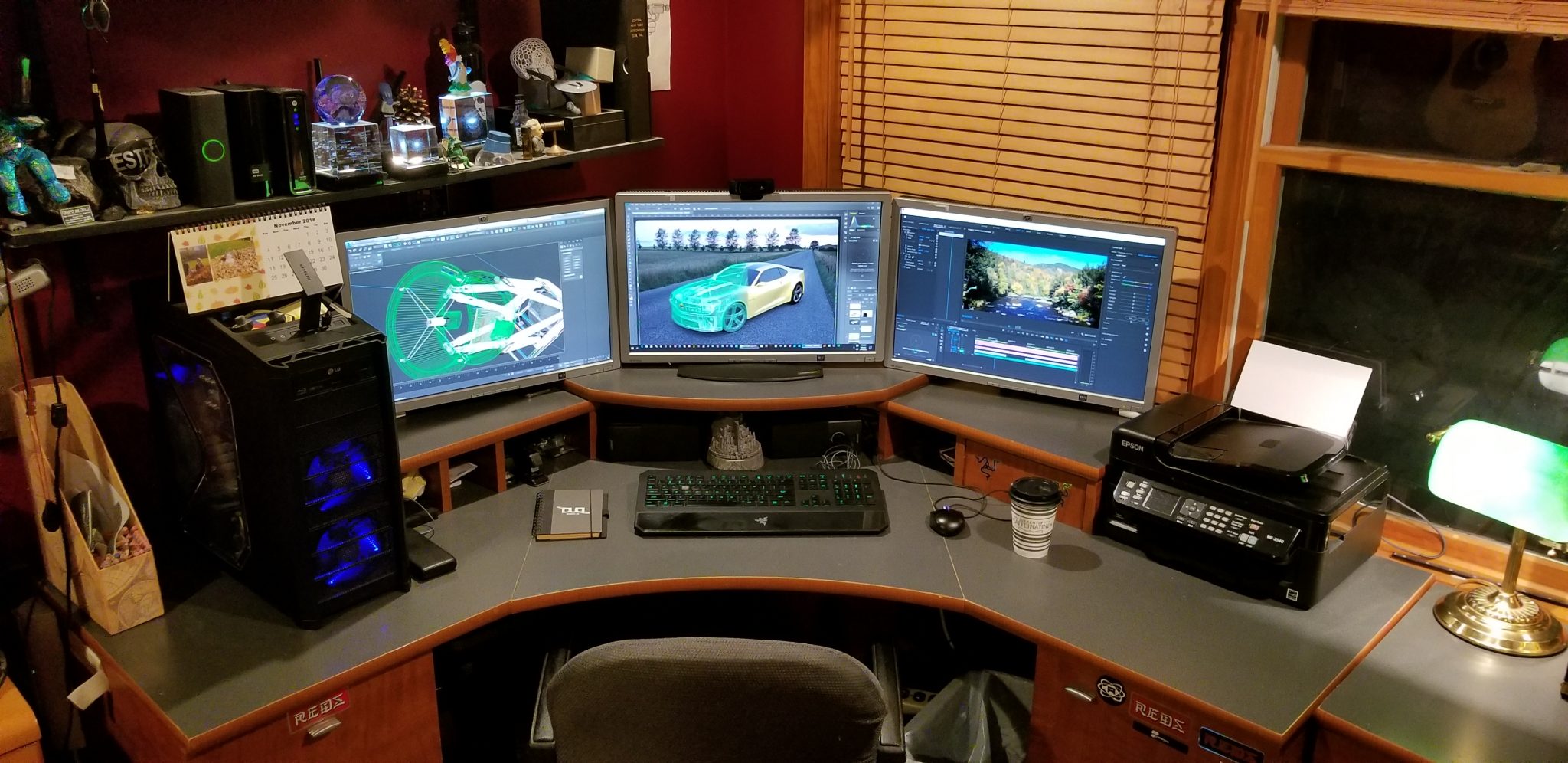 ---
This is where all the magic happens...Okay, maybe not magic but it is where all the work gets done to produce the websites I design & code. The 3D Models, that I bring to life and where all the aerial drone footage is produced and rendered.
This workstation was several months of research for the best system that would allow BadDog Digital Production to the create content for its 3 main services.
First there was the design and research to determine just the right mix of resources and hardware.
Then searching for the parts and balancing the best deals with the right equipment and vendors.
The next step was assembly of all the hardware and installation of the operating system, other hardware drivers, software, updates and patches.
Then over the course of many months was putting the workflow all together and the configuration of hardware and software to give me the best possible performance across the breadth of services BadDog offers,  with the ability to adapt and grow as the technology improved.
Mother Board

Supermicro MB Motherboard X10SRIFO Xeon E51600

Heat sink

Supermicro 4U Active CPU Heat sink

Power Supply

Ultra - 1000 Watt X4 Modular ATX Power Supply Unit

CPU

Intel Xeon E52630 v3, 8 Core, Haswell Processor, 2.4GHz 8.0 GT/s 20MB LGA
Video Card

PNY Quadro K4200 VCQK4200-PB 4GB 256-bit GDDR5 PCI Express

Hard Drive 1

Samsung 850 PRO - 512GB - 2.5-Inch SATA III Internal SSD

Hard Drive 2

HGST Deskstar NAS 3.5" 4TB 7200 RPM 64MB Cache SATA 6.0Gb/s High-Performance Hard Drive

CD/DVD

LG 16X Bluray MDisc CD DVD BDXL BD Burner Drive

Tower Case

Antec Nine Hundred Black Steel ATX Mid Tower Computer Case with Upgraded USB 3.0